A nutritionist provides the pros and cons of eating the same healthy foods every day. 4Patriots LLC stresses the importance of variety in one's diet – whether now or following a future crisis.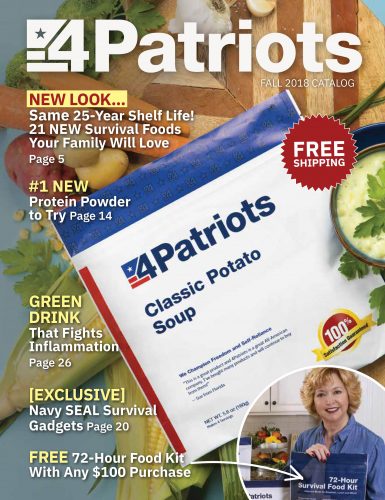 Nashville, TN , United States - November 8, 2018 /MarketersMedia/ —
What's better for one's health? Eating the exact same nutritious food every day, or consuming a variety of food that is not as nutritious? Most might say the former, but there are also plenty of downsides to a repetitious diet.
That's according to a recent article at NBCNews.com. Nutritionist Kate McGowan says that while eating the same nutritious foods every day can create good habits, aid in weight loss, reduce stress and save money, nutritional diversity is key to staying healthy.
Repetitive dietary patterns limit the nutrients one should obtain from food. "If you only eat orange vegetables, like carrots and sweet potatoes, you will be getting a good amount of fiber, Vitamin A and Vitamin C," McGowan said. "But you will be missing out on Vitamin K, folate and lutein found in dark green vegetables like kale or broccoli."
4Patriots LLC of Nashville, Tenn., has long been a proponent of variety when it comes to the survival food it sells.
"Variety is important for both physical health and for psychological reasons, and it will be equally important when people are dipping into their survival food supplies during a crisis caused by extreme weather, other natural disasters or an attack on our electrical grid," said Allen Baler, Partner at 4Patriots.
Baler's company provides a variety of products, including survival food, that help people become more self-reliant and independent.
"As folks can see in our latest Catalog, we offer a wide variety of nutritious food with a shelf life of 25 years," Baler said. "From Cinnamon Sugar Oatmeal and Buttermilk Pancake Mix, to a wide variety of soups, to vegetables, meat and desserts, we've got something for everybody's appetite. And it will be there whenever you need it most."
4Patriots Survival Food meals are offered in five different kits – 72-hour, one-week, one-month, three-month and one-year. The meals can be prepared in less than 20 minutes, and they require only boiling water.
The food is contained in easy-to-store Mylar pouches, which keep out air, moisture and light. They are tucked inside tough, stackable totes that are discreet and store anywhere, including the basement, attic, garage, cabin or even an RV.
"Having a supply of non-perishable food on hand in case of an emergency will give people the peace of mind they need to face an uncertain future," Baler added.
4Patriots provides emergency food products that are shelf-stable for 25 years. 4Patriots Survival Food kits are made with food grown, harvested and packaged in the United States, and all of the meals are made without any genetically-modified products, preservatives or fillers. The kits are available in 72-hour, one-week, four-week, three-month and one-year supplies.
Contact Info:
Name: Timothy Boyle
Email: Send Email
Organization: 4Patriots LLC

Source URL: https://marketersmedia.com/4patriots-llc-encourages-variety-in-food-consumption/439142
For more information, please visit http://www.4patriots.com
Source: MarketersMedia
Release ID: 439142