Natural Rapids has successfully released their all-natural deodorant that is aluminum free, baking soda free, and contains only natural and organic ingredients.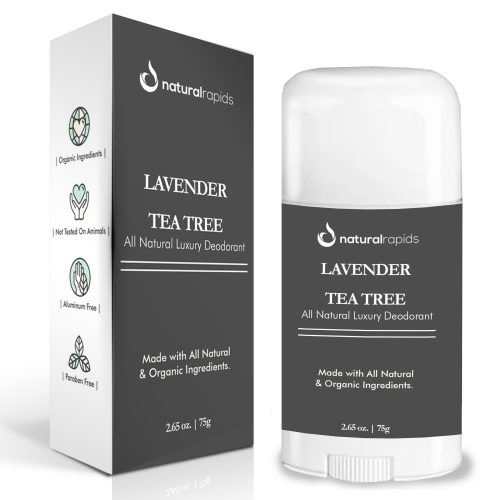 New York, United States - December 6, 2018 /MarketersMedia/ —
Natural Rapids has successfully released their newest product: an all natural and organic aluminum-free deodorant.
Deodorants are used every day by men and women to keep them feeling fresh and odor free. All natural products have experienced a spike in popularity across the US because they are just as effective, and healthier than synthetic alternatives.
The problem for most people that are searching for an all natural deodorant is that there are hundreds of products to choose from. There are many deodorants on store shelves and online that are filled with artificial ingredients.
Natural Rapids, a fast-growing health and beauty brand that specializes in natural products, has successfully released their highly-anticipated all natural and organic deodorant. This deodorant features several powerful ingredients like organic coconut oil, organic jojoba oil, and organic shea butter that work throughout the day.
The all natural and organic ingredients of this deodorant are what distinguish it from other deodorants on the market. This aluminum free deodorant is produced under strict hygienic conditions and contains no artificial or synthetic ingredients.
"We've always loved natural deodorants, but we've been disappointed to see so many brands that claim to be natural but contain synthetic ingredients that just aren't worth putting on your body," said Bruce Stevenson, co-founder of Natural Rapids. "Our natural deodorant contains 100% natural and organic ingredients so that our customers can truly use an all natural product."
There are also other natural deodorants that use baking soda as their active ingredient. Baking soda can often leave armpits painful and inflamed. The Natural Rapids deodorant contains no baking soda and the formula is designed to be very gentle on the skin. The deodorant is aluminum free, baking soda free, paraben free, phthalate free, and cruelty-free. There are absolutely no synthetic fillers or chemicals that can often react poorly with the skin.
The Natural Rapids aluminum free deodorant was successfully released on Amazon.com, and in just a short time, customers have come to love it.
To get yours now on Amazon, visit: https://www.amazon.com/Aluminum-Free-Natural-Deodorant-Stick/dp/B07FCRV5D3
Contact Info:
Name: Bruce Stevenson
Organization: Natural Rapids
Website: http://www.naturalrapids.com