The luxurious bedding company has combined the best of all worlds by creating a Quality + Comfort unique pregnancy body pillow that promotes a wide range of benefits, including full body support when sleeping or relaxing and helping to relieve pains associated with pregnancy.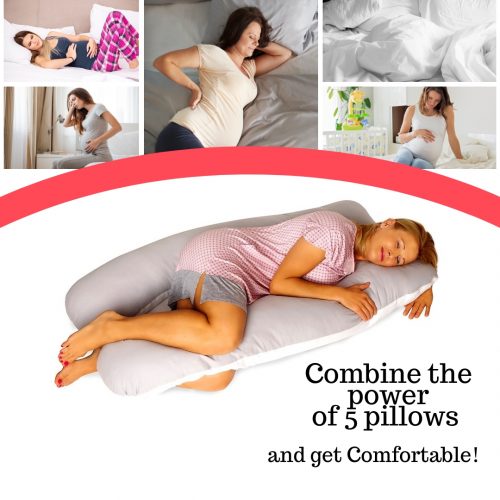 New Jersey, United States - December 6, 2018 /MarketersMedia/ —
Body Pillows are highly renowned as a "super sleeper aid" due to the many ways that sleepers can customize the shape to help them relax and get comfortable. From back, belly, knee and ankle support to hip alignment and improving blood circulation, body pillows are seemingly the ideal solution to a better more restful sleep.
The problem for most people searching for the perfect body pillow is that they are forced to make difficult decisions when choosing which company to go with. Most pregnancy body pillows are made out of low grade cotton or polyester so consumers comfort level is low. Furthermore, the vast majority of these products have scantily filled stuffing so the effectiveness of the body pillow is greatly reduced.
The Pillow Capital Company, a rapidly growing bedding brand with a focus on premium materials and top quality creations, recently introduced their highly-anticipated Pillow Capital Body Pillow. This all-purpose solution is the only Quality+Comfort maternity body pillow on the market, which means that its pillow material is softer, the stitch-work is strong and precise and the pillow is extra full and fluffy to provide optimal support to all areas.
"My husband Brad and I have tried unsuccessfully to conceive for over 8 years." said Emily Davis, founder of The Pillow Capital Company. "In 2017 doctors declared us unable to have children. After coming to terms with our new reality, I channeled my desire for children into a resolve to help pregnant moms and make a positive and healthful impact on the world. My mission is to improve sleep during pregnancy by developing the highest quality and most comfortable pillows."
Thus the quality and comfort of this pregnancy pillow is what sets it apart from other products. Pillow Capital has stringent inspection companies that follow every part of the process ensuring that each and every unit reflects the high standards that Pillow Capital has set.
"We've always admired the amazing power of a pregnancy pillow, for anybody to use, but we've been disappointed to see how many products were not measuring up to the standards we had," said Emily. "We created the Maternity Body Pillow to bring true relief and comfort to the public. They can experience what we've tested, retested and found brought the highest results."
In the realm of pregnancy benefits, the body pillow continues to serve great function post birth as well. Due to the unique shape the pillow can be twisted to provide back support and baby support while nursing. A U shaped body pillow can carry you from pregnancy all the way through nursing and on.
"Don't be fooled by the title 'pregnancy pillow'," warns Davis."Because when it comes to people who can enjoy the benefits of this body pillow, we've been blown away. The feedback we've received from people who were using our pillow to recover from surgery, ease body aches and more has been incredible. Our unique U shape pillow has helped many men and non-pregnant women suffering from sleep discomfort and insomnia as well!"
"Our main goal with Pillow Capital was to showcase the limitless potential of premium pillows, and not just as a trendy sleep product," said Davis. "We wanted to show people how a premium-quality pregnancy pillow can change their lives for the better, and that's exactly what we're doing."
Pillow Capital has just been released on Amazon.com. To celebrate, Pillow Capital is selling at a special 15% regular price to try their Pregnancy Body Pillow. This way more people can experience this breakthrough pillow solution at the lowest possible launch price. To get yours now, visit Amazon.com/fullbodypillow. The quality of the pillow is high so the company has a very limited supply.
Contact Info:
Name: Emily Davis
Email: Send Email
Organization: Pillow Capital
Website: http://support@pillowcapital.us
Source URL: https://marketersmedia.com/pillow-capital-announces-release-of-groundbreaking-maternity-body-pillow-for-full-body-support-and-pain-relief/455447
Source: MarketersMedia
Release ID: 455447